Located in what's known as the Panhandle region of northwestern Florida, Panama City Beach offers vacationers great choices when it comes to accommodations. Some of the best are located overlooking this coastal town's beautiful beach, which stretches some 25 miles along the Gulf coast, such as the popular Sheraton Bay Point Resort and Holiday Inn Resort Panama City Beach.
In addition to the big brand names, there are some excellent family-owned and operated resorts and hotels to consider, too. One of the best is Osprey on the Gulf, a hotel that has been run by the same family since the 1950s (it, too, boasts magnificent waterfront views). There are also some good-quality, affordable options from which to choose, including the Hampton Inn & Suites Panama City Beach – Beachfront. Find the best property for you with this list of the top-rated resorts in Panama City Beach:
Sheraton Bay Point Resort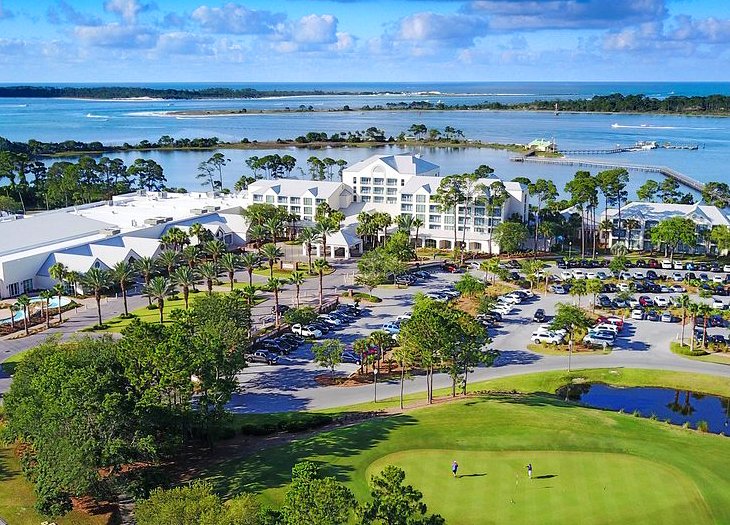 One of the most popular luxury offerings on Florida's Panhandle, the completely renovated Sheraton Panama City offers guests plenty of 'fun in the sun' activities to keep them busy. Topping the list is the resort's beautiful waterfront, where guests can unwind and sunbathe on a private beach, take in some alfresco dining, or venture out on a jet-ski or pontoon boat rental (kayaks and paddleboards are also available). Other on-site fun includes two heated outdoor swimming pools, 36 holes of golf (lessons and equipment rental available), a full-service spa and fitness center, plus five tennis courts and a pro shop. For those wanting to venture a little farther afield, a shuttle bus connects the resort to other beach areas, including Shell Island.